"You clowns are actually gonna make me write this down..."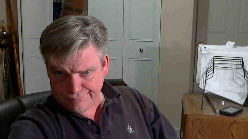 Bio of a Suspense Author
M.E. Smith grew up in a small town in East Tennessee. He joined the U.S. Army and went to college. In the last 30 years of misadventures, he's been employed as everything from custodian to accountant.
A mild-mannered gentleman by day, Mike dons his slate-gray suit and fedora by night. "The literati are a superstitious and cowardly lot. So, my disguise must be able to strike terror into their hearts. I must be a creature of the night, black and terrible…a writer."
He is currently looking for a psychotherapist on Thumbtack or, at least, a good bartender.
Mike is a suspense writer born out of tragedy. Growing up with no father and losing his mother without a chance to say goodbye, Mike channels the emotions he can't express into his suspense novels. Driven by a passion for storytelling, he strives to craft unique and engaging tales. He is an entertainer by trade and has spent years fine-tuning his craft.
A Mystery Book Worth Reading
Read the captivating tales that have been woven from the mind of Mike Smith and experience a mystery book unlike any other. As a mystery author, he has been hard at work on this novel, considering it his masterpiece.
When there's a seemingly endless stream of books and movies coming out, it can be hard to find a compelling novel. Mike realized this better than anyone, which is why he set out to tell a story that no one had heard before. He saw the charm of the noir genre and decided to do something different with it.
The result is his debut suspense novel, "Remanded to the Night Café: An Existential Fable." Mike has managed to craft a tale that brings together different genres and styles of writing. When you're looking for an intriguing, unpredictable story, take a break from everyday life and pick up a copy.
Contact us to find out more about this suspense author. We offer his works to readers nationwide.